AdwCleaner
4.1
Digital Chloride
Sometimes you realize that no matter what you try the adware just won't come off. Well, searching will eventually pay off. As it did in my case. A couple of months ago while installing something, I got click-happy and missed the fact that I had agreed to install a toolbar and some other questionable program along with what I intended. I don't need to mention that I used what I knew to work best against this kinds of mishaps. I scanned and cleared the intruders with a few swift clicks.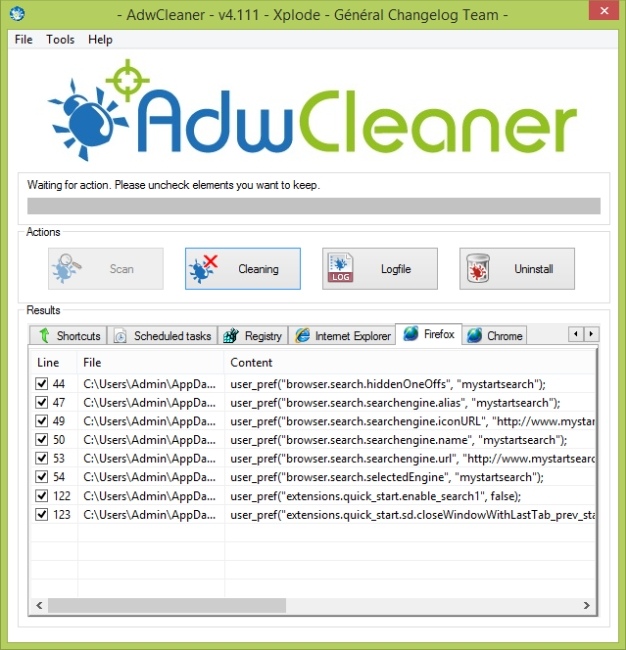 A PC essential?
Recently though, after giving AdwCleaner a spin, to my surprise, it found remnants of that old infection still lingering on my hard drive. This feat raised my respect for the no brand program.
AdwCleaner stands for Adware Cleaner but it's shorter and a bit harder to pronounce. It is a very light program and uses a simple interface. There are for big buttons across the screen that pretty much are the only thing you'll need. You press Scan to start searching for deviant code. AdwCleaner will find dead shortcuts, Windows scheduled tasks, obsolete registry entries, and browser bugs. Once an inventory has been created, you can uncheck any false positives and then press Cleaning. This will close all your programs, so make sure to save your data since you will not get to see any prompts.
The last two buttons allow you to view the log file and uninstall AdwCleaner. Yes, the program comes with a self destruct button, if you believe that.
Cleared files will not be deleted. Instead they are automatically quarantined and can be restored from the Quarantine Manager. So if you have removed something by mistake, you can revert the error.
Features:
Deletes dead shortcuts, services, files and folders
Clears the registry
Removes spyware and adware from browsers
Quarantine
Pros:
Lightweight
Very effective
Cons:
The table rows are not always extended optimally. Yeah that's the only thing that bugged me.
Conclusion
AdwCleaner is probably something that you will always try to run after noticing an infection of any sort. It basically finishes up what your Internet security suite left alone.
RELATED PROGRAMS
Our Recommendations
---
---
---
---